---
03/25/15
Well it's been a little while since our last update, but we've been busy with all kinds of activity going on. First of all, thank you to all those that attended our NAMM booth in January. We had a real blast. Autograph signings with Doug Aldrich, Marty Friedman, Mike Spreitzer and short visits by Paul Gilbert and Ty Tabor of King's X highlighted the proceedings. We also showed an early prototype of our new SST speaker simulator pedal, capably demoed by Larry Mitchell, Rob Balducci and Stefano Xotta.
More on the SST in coming months - but all that heard the pedal at our booth can attest how amazing that little box sounds. Look out for videos soon.
About the SST, we're still working on the pedal, making sure that it's as bodacious as possible at release. We're hoping to have the pedal ready to ship sometime in May.
We'd also like to welcome brand new Majik Box endorser Patrick Kennison, who plays guitar in Lita Ford's band. Patrick is an amazing player, and we're happy to have him rocking out with a Fuzz Universe providing all of the extra juice he needs in front of his Marshall JCM800 amps
On the dealer front, we'd like to welcome aboard Dan's Guitar on Oahu - quite simply the best guitar store on the islands. Please check out Dan's Guitar if you are ever lucky enough to be in Hawaii.
---
09/22/14
Pre-order time is over for the Body Blow Jake E Lee Mod. Shipping starts this week!
We'd like to thank Jake and his tech Scott Bell for helping us with filming of the video. Be sure to catch Jake and Red Dragon Cartel on tour in November with former Badlands cohort Greg Chaisson handling the bass duties this time out. They're going to rock!
08/25/14
Well, it's almost here! The Body Blow Jake E Lee mod. We're accepting pre-orders starting today, and will be shipping beginning September 15. All pre-orders are guaranteed to ship by that date. But the best part? Jake agreed to autograph a quantity of pre-ordered pedals! Those of you who have been patiently waiting - now is the time!

We took a little road trip to visit Jake in Vegas recently, and had a great time. Hanging out with Jake, his tech Scott Bell at the beautiful Tone Factory recording studio was truly a blast! While there, we produced a video with Jake discussing the development process demonstrating the pedal with classic Badlands and Red Dragon Cartel riffs throughout. Watch out for this video soon.
05/01/14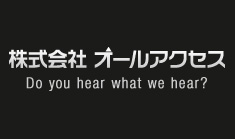 We are very proud to announce our new, exclusive distribution deal in Japan with All Access. In addition to Majik Box, All Access is the exclusive distributor for Shure, Tech 21 and Voodoo Lab. All Majik Box product will be available in Japan at your favorite music store, via All Access. Please feel free to contact them at the below phone number for any questions regarding Majik Box in Japan.
TEL 052-443-5537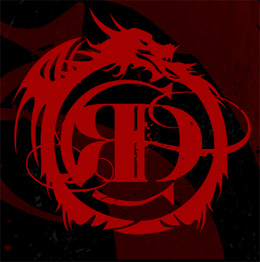 We've been getting lots of questions about the mysterious pedal on Jake E Lee's current pedal board. This pedal is a heavily modified Body Blow that was based on close collaboration between Jake, his tech Scott Bell and Majik Box. The mod adds slightly more gain and super thick low mids to the Body Blow, giving single note lines a huge infusion of girth and muscle. You can hear Jake using this pedal live on tour all summer for all of his thick, blistering leads. We're working with Jake now to ready the pedal for release this summer.
03/26/14
Well, it's taken a bit longer than expected, due to some unexpected delays in production, but we're now ready to officially ship the RF-LTD-5. For those who have waited, we thank you for your patience. We will begin shipping the RF-LTD5 on Tuesday, April 1.
Lots of you have been asking about the mysterious pedal that Jake E Lee has been using on tour with Red Dragon Cartel. The pedal in question is a heavily customized Body Blow pedal. Modified with a completely different EQ curve, with a bigger low end and more mids, with a touch more gain, the mod really thickens Jake's lead tone. Though we're still working out details with Jake and his tech Scott to release his custom model, we can modify a stock Body Blow to the custom specs (though the graphic will be that of the regular Body Blow and will still come with the two mini toggle switches). There will be an additional surcharge of $50 USD for the mod. Send us an email at: info@majikboxusa.com if you're interested.
01/23/14
Happy New Year! NAMM is here and we're all here at the beautiful Anaheim Convention Center in Anaheim. Please stop by and see us at booth #4394 in Hall C. You'll see the just unveiled Doug Aldrich Rocket Fuel 5th Anniversary Limited Model (Just 250 available worldwide) and a other new things.Speaking of the Doug Aldrich RF-LTD5, it comes with a Certificate of Authenticity and a set of commemorative picks. These are on sale now, and will begin shipping the week of February 3. Order it now - get it early!
---
11/26/13
Two days before Thanksgiving, and we've just started to box up our first few Bipolar Fuzz pedals. Ever since we showed Bipolar Fuzz prototype #1 at the NAMM show in January, we've been getting steady inquiries about the pedal and questions regarding the release. Production prototypes were used by Korn and Marty Friedman on their respective recordings (hear the Bipolar Fuzz on Korn's Paradigm Shift CD and Marty's upcoming solo disc Inferno.) And now the time has finally arrived. We'll begin shipping the Bipolar Fuzz starting next week. We're really proud of the pedal and hope you guys dig it as much as we do.
In addition, we've been busy cooking up a few new surprises for NAMM. We'll be in Hall C this time, booth #4394. Please come say hello!
Happy Thanksgiving!
09/01/13
As you all probably know, Majik Box pedals have been sold exclusively on-line, on this very web-site exclusively in the U.S. That is, until now. We are proud to announce that Majik Box pedals are now available at select Sam Ash Music locations (look at the distributor and dealers section for a location near you) and at the two Bananas At Large locations for those of you in Northern California. So now U.S. residents have a choice. Buy directly from us, or walk into a select Sam Ash or Bananas store and buy from them. Yeah!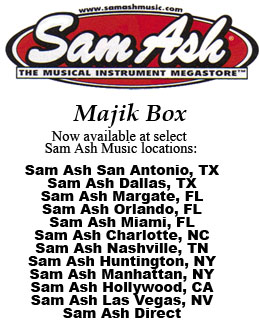 We'd like to of all thank you all for the incredible reception that Filthy Lucre has received. It is quickly becoming one of our best selling pedals, and it has been showing up on pedal boards everywhere! Special thanks to Tracii Guns (LA Guns, Raiding the Rock Vault, League of Gentlemen) who has been a fantastic evangelist for the Filthy Lucre. Look out for a video feature on Tracii and his Vegas extravaganza Raiding the Rock Vault rig coming soon.
We are also please to announce that Josh Rand, one half of the amazing guitar duo in Stone Sour is the latest endorser of the Body Blow overdrive. Josh did a shoot out between the Body Blow and his old favorite overdrive and dare I say it, according to Josh, the Body Blow simply blew the other pedal away. Josh now has all three of his live rigs equipped with the BB-1
05/01/13
After a short delay on parts, we are finally in full swing production of the Filthy Lucre and now shipping within a week of orders being placed.
Thanks so much to Vic Johnson of Sammy Hagar's band who was gracious enough to do a demo video on the Filthy Lucre for us, showing how he creates his big tone using his new favorite box. Vic's new travel rig for all Sammy Hagar fly dates consists of just the Filthy Lucre for all distortion tones, a Boss DD-3 delay and a Boss PS-3 pitch shifter used for slight detune. This rig is used in conjunction with two rented Marshall JCM800 heads and cabs, when he cannot bring his full back line.
Also please check out Rob Balducci's fine review of the Body Blow pedal on our Facebook page.
03/02/13
The wait is finally over! The proto-type Filthy Lucre proved to be the hit of the Majik Box NAMM show booth in January, with artists as diverse as Doug Aldrich of Whitesnake and Vic Johnson of Sammy Hagar & The Wabos wowing the crowds with the thick and meaty tones of the Filthy Lucre. Ever since then, we've received inquiries far and wide regarding the availability of the pedal. We are happy to annonce that this his filthy beast finally starts shipping next week.
01/23/13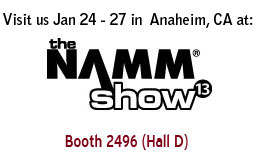 Booth Performances and Appearances:

Thursday, Jan 24

1:30 PM - Rob Balducci Performance
3 PM - Larry Mitchell Performance
4 PM - Rob Balducci Concert at the NAMM Venue stage presented by Majik Box

Friday, Jan 25

12 Noon - Larry Mitchell Performance
4 PM - Rob Balducci Performance

Saturday, Jan 26

1 PM - Larry Mitchell Performance
2 PM - Doug Aldrich Autograph Signing
3 PM - Rob Balducci Performance
4 PM - Vic Johnson Autograph Signing
01/02/13
Happy New Year! We are starting our year preparing for our first NAMM booth. Show dates are Jan 24-27 at the Anaheim Convention Center. Please visit us at booth 2496 in Hall D if you are attending. Appearing at our booth will be Doug Aldrich, Munky, Vic Johnson, and special live performances by Larry Mitchell and Rob Balducci. Inaddition, we will be debuting our latest pedals at the show. Hope to see you there! And if you can't make it, please visit our Facebook page for periodic updates.
---
10/15/12
We begin shipping the Fuzz Unverse Custom late next week for those wanting the latest and greatest version of this fantastic pedal. The Fuzz Universe Custom uses our Quiet Click technology, substantially reducing the "click" noise when engaging the footswitches (which occurs on any true bypass pedal). The footswitches utlized are authentic Carling footswitches for optimal relay operation, and a cool new white motif, designed by Paul himself. Of course, the original Fuzz Universe will still always be available.

Be sure to check out the great review of the Krush Distortion on Guitar World online. Check it out here:

http://www.guitarworld.com/munky-business-majik-box-usa-krush-distortion
8/17/12
One of our favorite player's, Rob Balducci has joined the Majik Box fold, and will be endorsing and using the Body Blow and Venom Boost. Learn more about Rob at: www.robbalducci.com

Please welcome our first dealer in Mexico, Quality Guitar. If you should happen to be below the border, please check them out. Find out more at www.qualityguitar.net
5/8/12
Thank you for the incredible response to the Krush Distortion! We started shipping today (sorry for the slight delay.) We still have a few Munky picks left, so if you place your order soon, you'll get one along with your Krush Distortion order.

Many thanks to Sebastien Paquet who shot the incredible Krush Distortion video for us, and provided the cool shots for the splash page and Guitar World ad.

Munky is currently out on tour with Korn in the U.S. rocking out his Krush - be sure to catch them if they happen to roll into your town.

Paul Gilbert is currently working on his next studio album in Los Angeles. Looking forward to Paul taking the Fuzz Universe to new heights on this one!

Also, for a good healthy dose of southern rock, check out 3 Doors Down along with ZZ Top and Gretchen Wilson on the Gang of Outlaws tour running through the end of June in the U.S.

In dealer / distributor news, we'd like to welcome Music Gallery in Italy to the fold. If you're in Italy, please give their website a visit: www.musicgallery.it
4/3/12
Happy Easter! It's getting close to the release of the Krush Distortion. We'd like to thank everybody for the incredible response we've received so far. Remember, if you pre-order before midnight April 30, you will receive a special "vintage" pick from Munky.
Those who were inquiring about Small and Medium Rocket Fuel T-shirts, they are now back in stock, so get yours now.
3/13/12
Well, we're just getting geared up to go into production on a new signature pedal with James "Munky" Shaffer from Korn called the Krush Distortion. We we're working long and hard on a metal style distortion pedal, and when we started working with James, everything just fell together. You'll have to watch the video to get the full effect, but this thing just well...Krushes! If you've ever desired that Korn distortion tone, or just wanted a box that could provide you with that massive, high gain metal tone out of just about any amp, here it is. The bonus is that James has also mapped out a setting on the Krush to help you dial in that Korn lo-fi tone that you hear on a lot of intros and breakdowns on their recordings.
We're taking pre-orders for the Krush now, which means if you order on or before April 30, you will receive a "Munky" pick with your order, yup, one from his live rack drawer. So be sure to place your order now. The pre-order pedals are scheduled to start shipping the week of April 30.
Please welcome our new dealer Sounds Great which is our first in the UK. If you're in that part of the world, your in luck, because those guys will really go out of their way to take care of you. Cheers to our friends at Sounds Great.
If your planning on checking our the Frankfurt Messe fair this year (March 21-24), please be sure to stop by and visit our friends at Loopers Paradise at Hall 4.1, Booth B20. They will be displaying the entire line of Majik Box pedals at the booth. Thanks Frank!
1/18/12
Happy New Year everybody! Winter NAMM begins this week and we do have a few new surprises for you which will be announced around shortly thereafter.
Thank you for the amazing response that we've gotten for the Doug Aldrich Rocket Fuel LTD. They took a bit longer than we expected to get out the door, but everything is sorted out now, and if you ordered the Rocket Fuel LTD. package and haven't yet recieved yet, you will soon. Thank you for patience!

If you're a Los Angeleno who's had a chance to check out one of Dave Navarro's Camp Freddy gigs recently has heard the Body Blow in full flight. His tone with the Body Blow / JCM900 head/cab combination is nothing short of stunning! Also, be sure to check out Paul Gilbert's gig Friday night, the 20th at Anaheim Plaza Hotel, Anaheim, CA as part of Deke's Guitar Geek Festival around NAMM.
---
12/6/11
December is here, and we're all getting ready for the holidays, which means getting all our Christmas shopping in. Well, in order to help, I thought I'd mention some new Majik Box stuff that might be the perfect gift for your guitar playing friends, or for yourself!

First of all, we start shipping the limited edition Doug Aldrich Rocket Fuel LTD next week. This pedal is identical to the original Rocket Fuel in terms of sound, but the casing gets a very special anodized treatment we've developed with a custom Majik Box "Copper Patina" color pattern. This special process conforms to Mil-A-8625, ASTM, Military and Automotive Standards but most of all, looks amazing!! We are only offering 100 of these special boxes worldwide and for a limited time. Each Rocket Fuel LTD. will come with Certificate of Authenticity, signed and numbered by Doug Aldrich and a Doug Aldrich Rocket Fuel T-Shirt in your favorite size.

Next, for those who would like to wear their Majik Box, in addition to playing though them, we are offering for the first time, Fuzz Universe and Rocket Fuel T-shirts. These are high quality, Hanes Tagless, premium cotton variety. Be sure to check them out on the new merch page.

We hope that you all have a safe and happy holiday season!
10/21/11
Wow guys! Thank you for the unbelievable response on the Kryptonite Overdrive. Those of you who are waiting to get one will not be dissapointed!

Munky from Korn visited the Majik Box studio this week and checked out some of our pedals, including a few new prototypes. Needless to say, it was a great time, hearing Munky jam some of his infamous Korn riffs using my trusty Ibanez 7VWH. I'd venture to say that you'll be seeing and hearing some Majik Box on his new pedal board soon.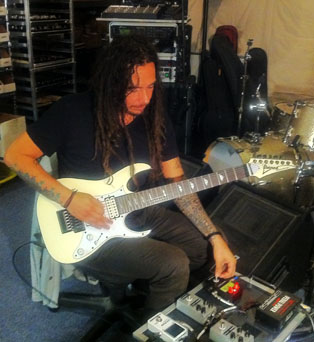 Spoke with Doug Aldrich last week. He wanted to let me know that his partner in crime Reb Beach has been using a Rocket Fuel as his main overdrive on the current Whitesnake tour, so if you're lucky enough to get to one of the shows, you're going to hear dueling Rocket Fuels. Cool!

Check out the latest issue of Guitar World (December cover) featuring our very first ad in the magazine featuring Paul Gilbert and the Fuzz Universe.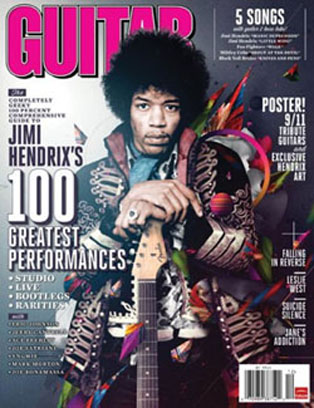 10/03/11
Kryptonite Overdrive
We are proud to introduce the latest in our line of signature pedals, the Matt Robert's (3 Doors Down) signature overdrive. We can't be happier with how the pedal came out! The Kryptonite Overdrive will officially start shipping at the end of this week. Direct price is $229.99 plus shipping. Here is the official press release:
Majik Box unveils the new Matt Roberts signature Kryptonite Overdrive pedal.
(TORRANCE, CA) October 3, 2011 - Majik Box, makers of the Paul Gilbert Fuzz Universe and Doug Aldrich Rocket Fuel pedals release their third signature pedal, the Kryptonite Overdrive. This pedal was designed to produce the "radio ready" signature guitar tones of Matt Roberts, lead guitarist of the multi-platinum rock act 3 Doors Down, who released their new album, Time of My Life in August.
The Kryptonite Overdrive is simple in concept, featuring only 3 knobs (drive, level and tone controls) making the pedal incredibly easy to use. Designed in close collaboration with Roberts, guitar tech Jeff Chase and Majik Box engineers, the Kryptonite Overdrive was carefully tuned to produce thick rhythm and saturated lead tones, when used in conjunction with any lightly distorted amp, suitable for all modern rock applications.
The pedal features true bypass switching, like all Majik Box pedals, eliminating tone degradation when in bypass mode and features Majik Box's road proof construction and hand wired assembly. "I can't describe how happy I am about this pedal. When I play, my signature Kryptonite Overdrive is on all the time. The only time I ever switch it off is for clean sounds. It's a huge part of my guitar tone," said Roberts.
Since forming in 1995, Mississippi rock quintet 3 Doors Down has sold more than 16 million albums worldwide, garnered three Grammy nominations, two American Music Awards, and five BMI Pop Awards for songwriting, including BMI's coveted "Songwriter of the Year" award. The band's debut album, 2000's The Better Life, which is now certified six times platinum, featured the smash hit "Kryptonite" from which the Kryptonite Overdrive received its name. Their sophomore album, 2002's Away from the Sun, saw similar success with its radio mainstays "When I'm Gone" and "Here Without You." Their subsequent efforts 2005's platinum certified Seventeen Days and 2008's 3 Doors Down debuted at #1 on the Billboard Top 200 Chart and their most recent, Time of My Life released in August, debuted at #3 on the Billboard Top 200 Chart with 59,800 copies sold in its first week.
John Petrucci and the Body Blow
We recently visited our good friend and Majik Box Body Blow user John Petrucci at the Nokia Theater last Sunday for the second date on Dream Theater's A Dramatic Turn of Events U.S. Tour. The band played like they had a new lease on life, with new drummer Mike igniting a new spark in the band while taking over the drum stool like he had been there for years.
John's playing was on fire, with his guitar tone sounding a bit more stripped down and raw than before. His Mesa Mark 5 / Axe Fx II / Body Blow lead tone was something to behold - it just sounded like, well, liquid fire! Check out a great interview and a breakdown of John's current rig in the latest issue of Premier Guitar digital edition. View the article here:
John's current live rig: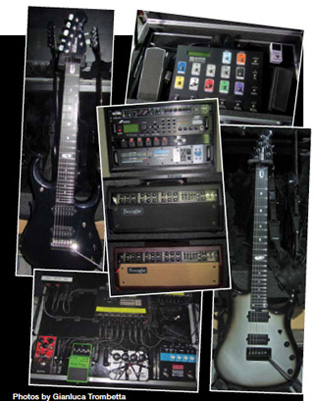 4/30/11
If you notice, we've reduced the waiting time for all of our pedals. This is due to our improved facilities in Torrance, CA which will allow for more efficient production.

We'd like to thank our loyal customers who have allowed us to grow and
expand our operation.

We recently had the opportunity to see Mr. Big at the Galaxy Theater in Anaheim.
It was awesome to see the band performing in their full glory, sprinkling some of their new material in among their backlog of classic material. Though I've seen the band many times, in their 90's heyday and in every configuration thereafter, I have to say that they've never sounded better than at the Galaxy. Paul's Fuzz Universe infused solo section sounded just sick! If you have a chance to see them on their current tour, do so. You will not be disappointed!

We'd like to introduce a new Majik Box dealer, Tone Freaks District in Seoul, Korea. If you're in their neck of the woods, please give our good friend and Tone Freaks main man Joon Lee a shout!
4/30/11


Crazy times at NAMM! We'd like to thank all of the great people we met at the NAMM show this year. We met with potential distributors from every territory in Europe, Australia and South East Asia. It's nice to know that we have great potential partners that want to help spread the gospel that is Majik Box. As usual, we are being very careful who we work with, and therefore at least until you hear differently from us, we will continue to sell direct to you (except in Japan) and through a few select dealers.
If you had a chance to visit the Bullet Cable booth at NAMM, you saw a great display featuring the Fuzz Universe. Thanks go to Kimmy and Ted at Core One, who were kind enough to make us a part of their awesome booth. Check out their new effects cable sets. They're the bomb...er, bullet.
If you're in LA, be sure to check out Tone Merchants store in North Hollywood - no, you won't find Majik Box there, but they have some of the coolest toys around. Have you heard Dave Friedman's new amps? They are a must hear if you're in Dave and Rob's neighborhood.
You know, that several of you commented that the test video for the Rocket Fuel done by the French magazine Guitariste was awesome, but would be much better if it could be understood in English. Mylene Aldrich (Doug's lovely wife), did the translation for us, so you don't have to wonder any more, what the hell he's saying! Thanks Mylene! Check it out on in the Press section of our website.
I also recently had a chance to hook up with Doug Aldrich for lunch and heard a number of tracks from the upcoming Whitesnake release Forevermore. Get ready to hear another classic Whitesnake CD but with a few twists - one track has a early seventies Stones type groove that just kills with some cool Richard's type of playing by Doug, and a epic track, a little reminiscent of Slip of the Tongue's Sailing Ships, but with a stronger melody and structure in my opinion, and a inspired extended guitar solo. And of course, there's lots of Rocket Fuel throughout the CD. Another outstanding CD from Doug, David and the boys.